At first
I introduce the best Japanese luxury ballpoint pen.
That is "Acro ball by PILOT".
Acro ball is not only very cool but also refillable, so we can use it for a long time.
Here's my overall assessment!
Japanese luxury ballpoint pen
PILOT Acro Drive
Cool
Easy to write
Rotating Retractable Type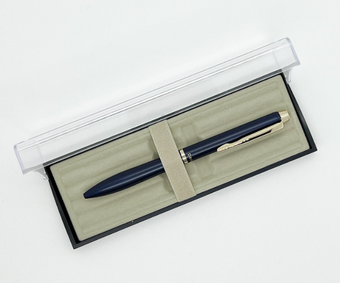 Let's start with the conclusion
My first impression of "Acro Drive" is that the color is more elegant and cooler than I expected.
The writing feel is as smooth as the Acroball, which is famous ball point pen in Japan.
I will now explain in detail.
Please read to the end!
Appearance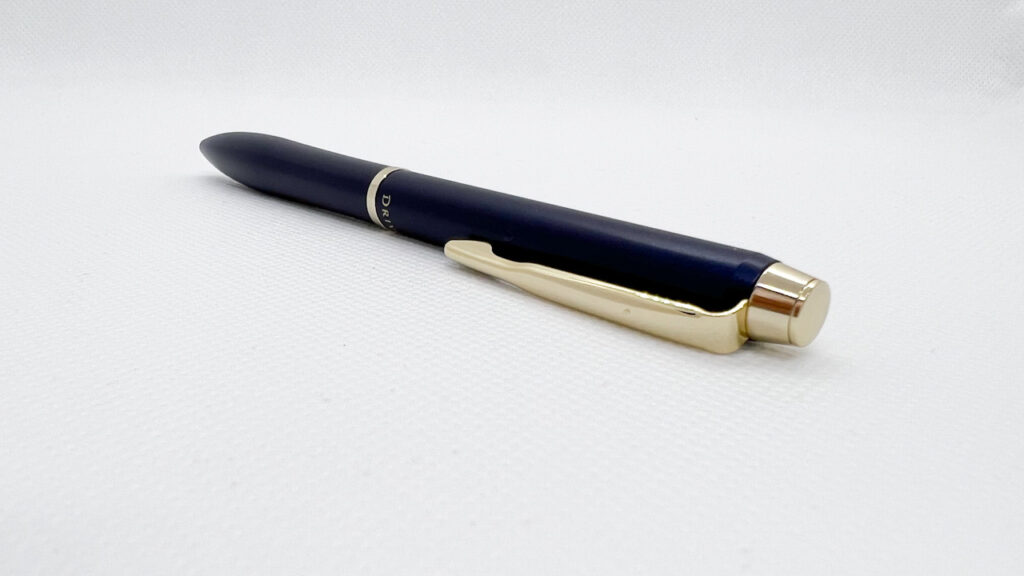 Let's start with the appearance, which you may be most interested in.
The design is very refined and elegant.
I purchased the dark blue model.
The body is a deep blue like lacquer. The clip is gold.
It is a ballpoint pen that makes me excited when I use it.
Basic information
Brand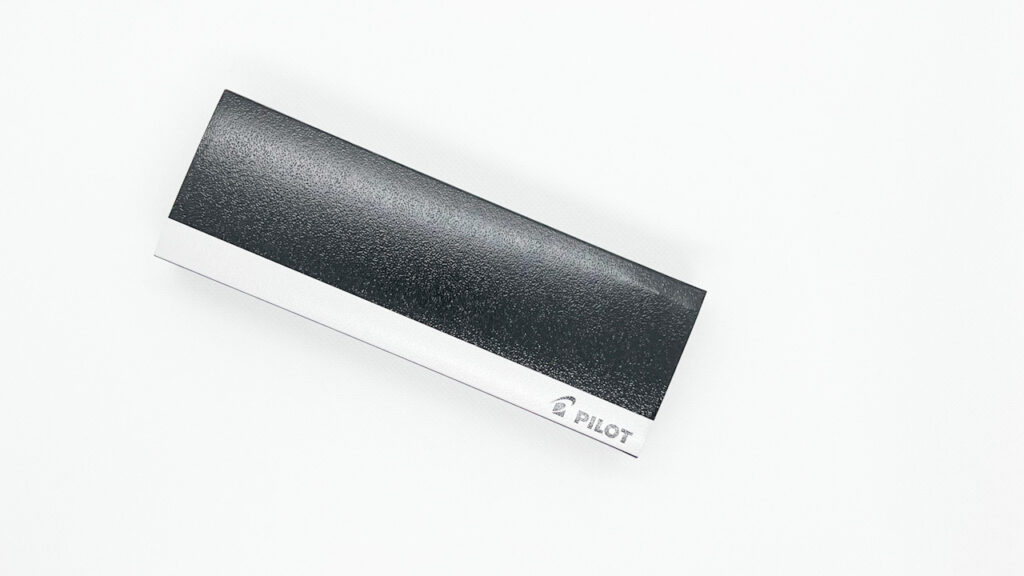 Acro Drive is a ballpoint pen of the well-known "PILOT" company, which is Japanese company.
This is a high-end model of Acroball, which is popular among Acroink users.
Price
The price is about $30.
It is expensive for a ballpoint pen, but it is affordable price for a luxury ballpoint pen.
Acro ball is worth the cost!!
Color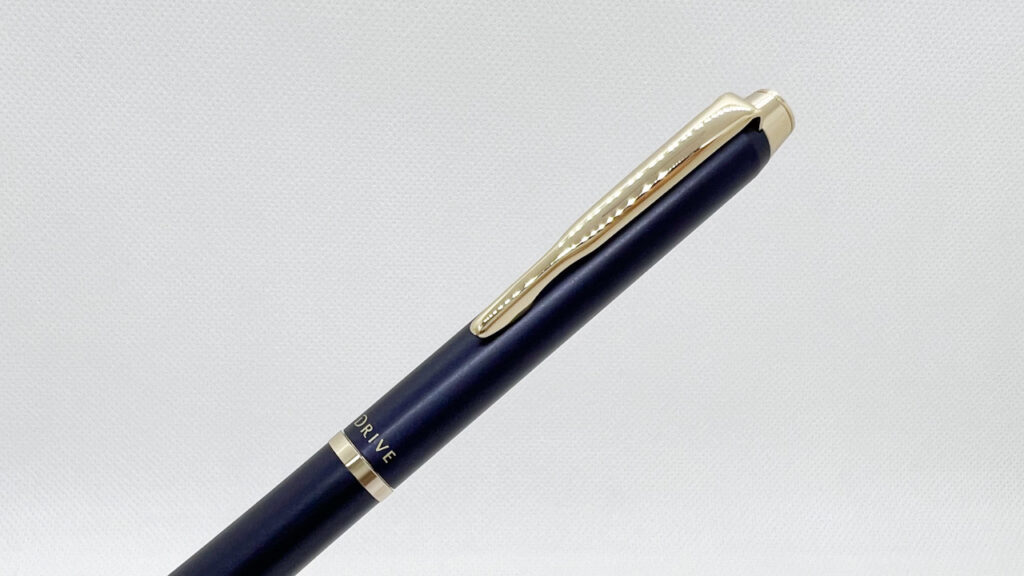 There are at least nine colors, and if limited edition colors are included, there is a great variety.
There are many colors ,which is from cool colors like the dark blue one I bought, to pretty colors like light blue and pink.
It is also a great gifts for those who you care about.
About refills
Diameter of refills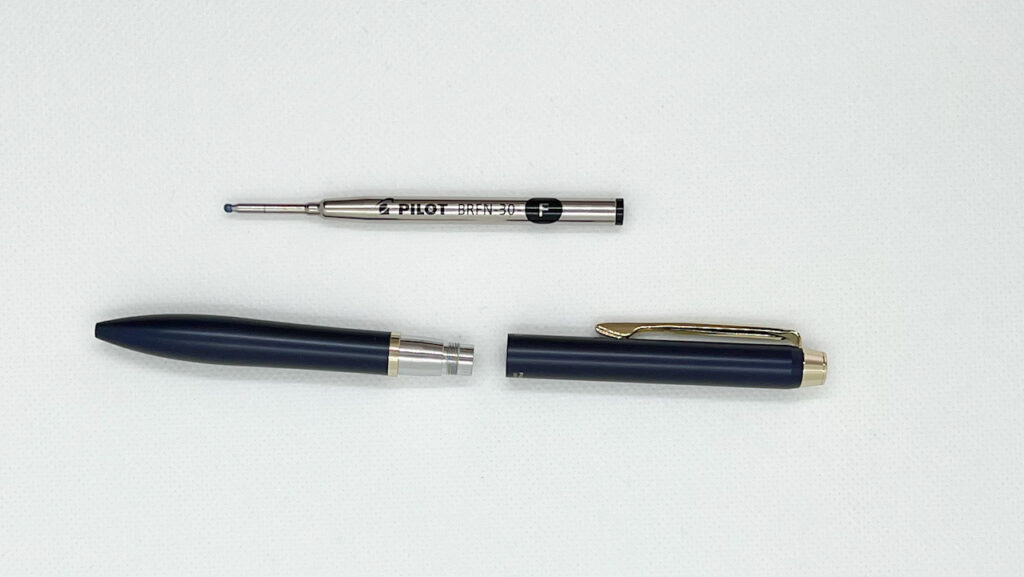 The refill thicknesses are 0.5mm, 0.7mm, and 1.0mm.
However, the default refill thickness is determined by the color of the body.
The list is available on the official website!
Delaney
No need to worry if the thickness of the refill you want doesn't match the color of the body!
Refills are interchangeable with all compatible refills in all thickness!
So, you can replace the refills with the desired thickness immediately after purchase.
That's what PILOT is all about!
Refills compatibility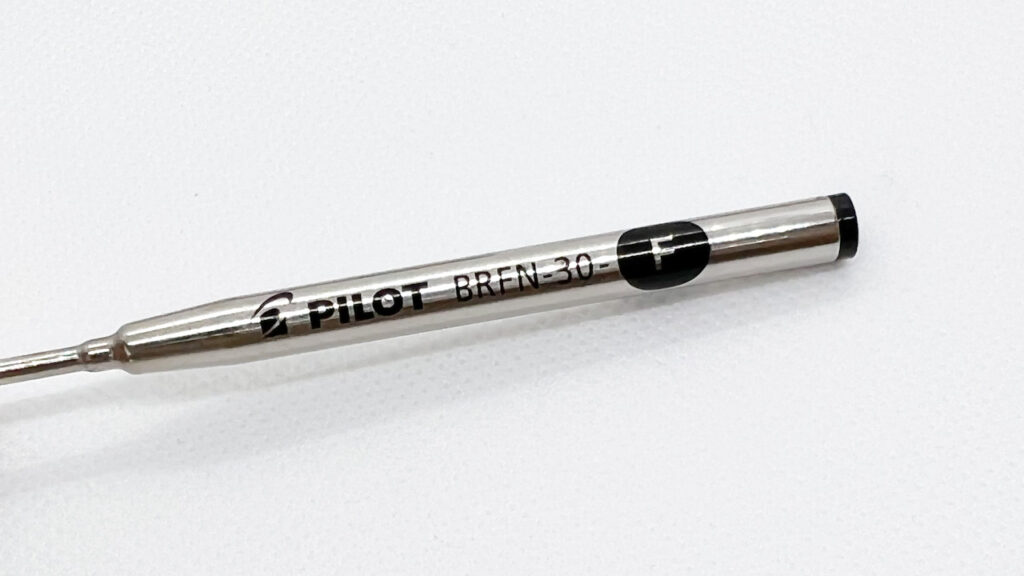 The refills BRFN-30EF-B, BRFN-30F-B, and BRFN-30M-B are supported.
Each model has a different thickness.
The price is about $3.
Can inexpensive models be used?
When I bought it, It is introduced that we can also use BRFN-10F-(B, R, L) instead, which is a low-priced refill ,those price is about $1.
It is the same shape, but made of plastic instead of metal.
It is not officially stated as compatible.
I will try to see if it actually works and add a note!
Rotating Retractable Type is very cool.
The feature of this ballpoint pen is that it is a rotating retractable type.
It is the type that the pensil comes out by turning it, not a click type.
Very quiet and elegant!
And it never stops in the middle!
I think the disadvantage of the rotary type is that the pencil stops in the middle.
You think you have returned it, but the pencil is still out. Then it makes your clothes or hands dirty…
As for Acrodrive, however, we does not have to worry about this.
When you turn pencil to the end, you will feel a click. When you return the pencil, it is automatically return when you return it a little.
Therefore, it helps the pencil not to stop in the middle. I like it very much.
Comfort of pen writing
The writing feel is "nice"!
Although it is an oil-based ballpoint pen, it uses Acro Ink, which has a viscosity of 1/5 that of ordinary oil-based ballpoint pens, and a smooth ink that is close to water-based ink.
The ink is like a combination of oil-based and water-based ink and is extremely smooth to write with.
There is no ticking sound caused by the gap between the pencil.
It is very smooth to write with!
Who I recommend?
Those who I can especially recommend is..
Delaney
The first time user of a high quality ballpoint pen!
High-end ballpoint pens vary widely, with the most expensive costing several hundreds of dollars.
The price of Acrodrive is about $30, so I can recommend for first-time users!
In addition, the refills are very inexpensive and don't cost a lots to have!
Lastly
Would I buy it again if I went back to the time of purchase??
The Acro Drive is easy to write with, has a good weight, and looks cool.
I am really glad I bought this ballpoint pen.
I will use it for a long time because it can be refilled!
Thank you for reading to the end!
I will be happy if it will be helpful for your purchase.